Challenge Group member Michael Naples chose this month's subject, which was indeed a head scratcher for me.

I have a lot of favorite treats! Choosing just one to portray wasn't easy.

Besides, I've already painted a few of my favorites in the past.


Another thing I had to consider: most of the treats I really enjoy are not something I can get at the store in our little town, so I knew I'd have to take time to bake something before I could do a painting of it.

It was worth it, though. I usually only make pecan pie for holidays, so having a fresh pie in our small household was indeed a treat. (It disappeared surprisingly fast!) I must say, those pecans on the top of the pie were quite a challenge to paint without getting too fussy.

(left) "Tasty Treat" Oil on hardboard 5"x5"
©2010 Diana Moses Botkin
The rest of the Challenge Group's paintings are an inspiration...and make my mouth water! Everyone's work this month is so much fun.

(left below) "Marble Frosted" Oil on Board 8"x8" ©2010 Michael Naples(middle below) "Chocolate Cordial Cherries" Oil on panel 4x4" ©2010 Jeanne Illenye
(right below) "The Usual Suspects" Oil on canvas 24x24" ©2010 Suzanne Berry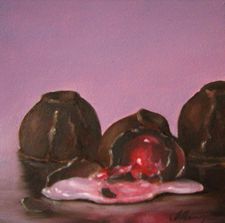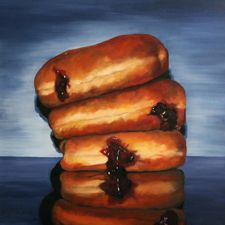 (left above) "My Treat" Oil on panel 6x8" ©2010 Robin Cheers
(right above) "One a Day" Oil on hardboard 4"x7" ©2010 Vicki Ross
Our Challenge Group is getting smaller these days. Two members have had to drop out for now to take care of family. We're already missing Silvina Day and Marie Fox in our monthly participation, but family is the most important.