Last month I mentioned that two members of my Challenge Group had to drop out due to family needs. We still have six participants in this monthly exercise, though: Suzanne Berry, Robin Cheers, Jeanne Illenye, Michael Naples, Vicki Ross and me (Diana Moses Botkin).

As you may recall, each of us in my Challenge Group takes a turn choosing what we'll paint. This month, member Jeanne Illenye suggested, "As it's April, how about something broad in range that leaves lots of creativity for everyone: 'Spring'."

The idea of spring calls up an array of images: flowers blooming, weeds to pull out of my gardens, grass to mow, fruit trees to prune, the end of hibernation for the bears, melting of snow from the mountains swelling the rivers, little girls' Easter dresses, the Resurrection. So many ideas... so little time!

Last year I started a series of miniatures inspired by the tenacious maple seeds that had been lying dormant all winter and had miraculously sprung to life everywhere on our property. As exasperating as they are to battle in my gardens I have to admire them. They truly are amazing. I think they epitomize the idea of spring perfectly.

(left) "Spring Wonder"
Oil on hardboard 4"x6"
©2010 Diana Moses Botkin
SOLD

I am always delighted to see what each member of our group comes up with for the Challenge each month. "Spring" brought an especially beautiful crop of paintings. I love them all!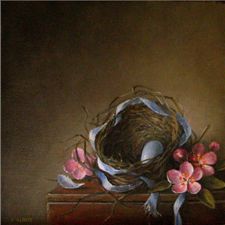 (left above) "The Lost Ribbon", Oil on Panel 8"x8", (c)2010 Jeanne Illenye
(middle above) "Easter Sunday", Oil on Canvas 12"x12", (c)2010 Suzanne Berry
(right above) "Stretch" 18x18 oil on canvas ©2010 Michael Naples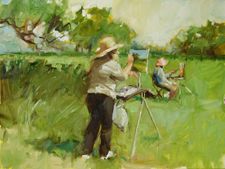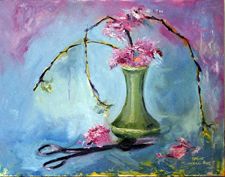 (left above) "En Plein Air", Oil on Panel 9"x12" ©2010 Robin Cheers
(right above) "Spring", Oil on Panel 9"x12" ©2010 Vicki Ross